Sold Out

Truck Crane 2.9ton TADANO TT210-1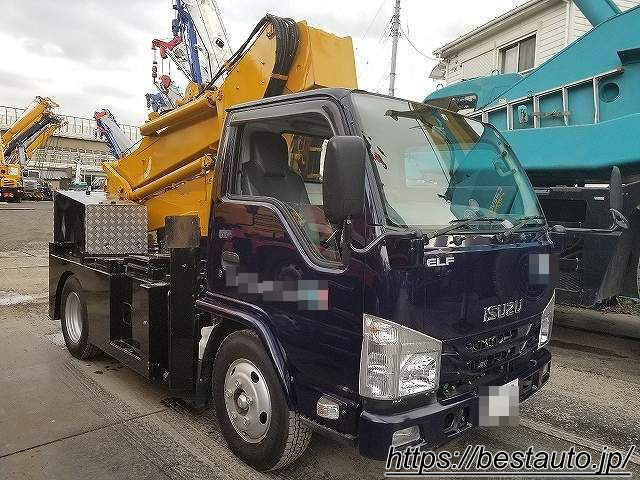 Ask anything about this model!
Easy contact via LINE and Facebook
Product Details
*Please tell us id number when you contact us
| | |
| --- | --- |
| Type | Truck Crane |
| Maker | TADANO |
| Model | TT210-1 |
| Serial | 7300xx |
| Year | 2014 |
| Mileage | 6,850km |
| Car Inspection | 2021.06.18 |
| Delivery place | Chiba Yard |
TADANO TT210-1 2014yr(1992yr)
- Serial No. 7300xx
- ISUZU Chassis
- NKR85 6MT / 2.9ton
- Mileage 6,850km
SizeLWH 5.14 x 1.89 x 2.61m
Weight 6,855kg
Boom length 3.5 - 8.5m
Jib length 3.15 - 11.35m
Boom 3 sections + Jib 5 sections
- Comment
Crane model is 1992yr, but the date of first registration is 2014yr and the mileage is only 6,850km.
It has been stored in a covered garage, and the condition is quite good.
Undulating boom 3 sections 3.5 --8.5m, bent (horizontal) boom 5 sections 3.15 --11.35m
Maximum working radius 12.8m / Maximum ground lift 21.2m
In addition to normal lever operation, a radio control is with it and remote operation is possible.
Contact Us
If you cannot find one you want from our stock list, please contact us.
We will propose cranes from other sources of information,
such as our network all over Japan, the private list, and the upcoming ones.
Please feel free to contact us for anything!
Easy request for inquiry and assessment via LINE!
LINE ID : @bestauto
Open the QR code reader on the Android or iOS version of LINE and scan this QR code.
Official Facebook page
− The latest information is updated in real time −
Search by Type
Search by Manufacturer
Easy request for inquiry and assessment via LINE!


Scan the QR code and add BestAuto.Jp! Easy request for assessment! We are posting about new arrivals via LINE!
LINE ID : @bestauto
Please let us know if you cannot find the crane or construction machine you want.
Request to Search