Truck Crane Stock Information

| | |
| --- | --- |
| Type / ID | Truck Crane 4.9ton / TC0326 |
| Maker | |
| Model / Year | NK70M-V-PJ / 1988yr |
| km / hour | 216,182km / hour |

| | |
| --- | --- |
| Type / ID | Truck Crane 2.9ton / TC0325-t |
| Maker | |
| Model / Year | TS55MS-1 / 1992yr |
| km / hour | 46,175km / 4,296hour |

| | |
| --- | --- |
| Type / ID | Truck Crane 4.9ton / TC0323-s |
| Maker | |
| Model / Year | TS75M-1 / 1991yr |
| km / hour | 9,327km / hour |

| | |
| --- | --- |
| Type / ID | Truck Crane 2.9ton / TC0321 |
| Maker | |
| Model / Year | F303 / 1988yr |
| km / hour | 7,644km / hour |

| | |
| --- | --- |
| Type / ID | Truck Crane 4.9ton / TC0322 |
| Maker | |
| Model / Year | TS75M-1 / 1992yr |
| km / hour | 138,316km / hour |

| | |
| --- | --- |
| Type / ID | Truck Crane 4.9ton / TC0318-c |
| Maker | |
| Model / Year | TS75M-1 / 1996yr |
| km / hour | 172,959km / hour |


| | |
| --- | --- |
| Type / ID | Truck Crane 2.9ton / TC0320-t |
| Maker | |
| Model / Year | TS55MS-1 / 1997yr |
| km / hour | 83,192km / hour |

| | |
| --- | --- |
| Type / ID | Truck Crane 4.9ton / TC0315 |
| Maker | |
| Model / Year | TS55M-1 / 1994yr |
| km / hour | 94,931km / 5,338hour |

| | |
| --- | --- |
| Type / ID | Truck Crane 4.9ton / TC0309-t |
| Maker | |
| Model / Year | NK75M-V2 / 1999yr |
| km / hour | 92,713km / hour |

Truck Crane

Truck crane is equipped with outriggers on the chassis and crane on top of it.
There are two cabins for driving and for crane operation.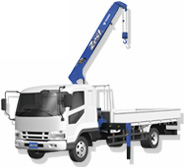 Because the crane is assembled on top of truck,
it has excellent mobility.
There are various types of sizes and use.
Followings are also known as truck cranes.
Cargo crane
The chassis is made of regular truck and has arm crane for unloading, and has space for the carriage.
Many of them can be operated by remote control or radio control.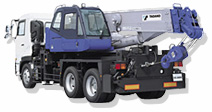 Wrecker Truck Crane
Unlike to regular truck crane, most of them have short boom. It has a winch on the rear part of the vehicle, and is used for towing or mounting a large-scale machine tools in factories and buildings.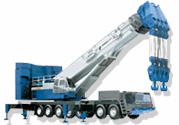 All Terrain Crane
It has mobility of truck cranes and also can drive on rough surface.
Many of them are large vehicle with a lifting capacity of more than 100ton.
Top crane part and chassis can be separated.